Mikimoto is a universally acknowledged name, especially in the pearl field as much as the same man which carried that name thanks to the historic contribution he gave to this sector, i.e. the pearl cultivation, defining the several quality standards which we know today.
Nowadays this huge knowledge is so highly used and bequeathed to even be translated into proper lessons in the newly opened Mikimoto Shop on the famous 5th Avenue in Manhattan.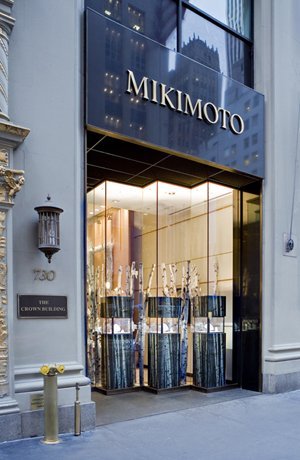 The elegant location which hosts the prestigious shop is divided into three "stations" – strands, cultivation and design – where differemt supervisors depict and explain in the detail the different phases of the cultivation process, the pearl harvest, strand creation up to the final stage, the design of the jewelles that will be created featuring these magnificent pearls.
In the upper floor we can find the South Sea loft where different strands of pearls (golden ones, Tahitian black and akoya ones) are shown and useful tips (5 ways to wear your pearl strand) along with curious news are provided: did you know that divers wear white cotton uniforms to drive off sharks during the immersions? And that a single strand of pearls may need even 4 years to be complete with gems of similar size and quality?
Often designers prefer to use huge pearl individually in their creations, but the same shop provides a perfect example of immeasurable patience, a South Sea pearl necklace estimated 1 milion dollars, with 17 mm to 18.7 mm pearls.
In the cultivation zone different oyster shells are shown to the public, in order to point out the different stages of growth: three years old akoya oysters are ready to be implanted with a bead, beginning the cultivation process which will lead in two or three years to the harvest of a totally formed pearl.
Finally in the design area the inspiration is the focal point and Amy, the supervisor, says that the same pearls whisper to the designer how they want to be used; this happens for baroque pearls of considerable dimensions, while 10-11mm gems are normally the easiest ones to manage and the best to sell.