1. WHAT IS THE MOST IMPORTANT FEATURE IN A PEARL?
Above all others, shine is by far the most important expression of a pearl's beauty. Shine refers to the light reflected from the surface of pearls. A high-quality pearl with good gloss will reflect a clear mirror image of the surrounding objects, and will also have a distinct and sharp contrast between the brightness of the pearls and the shaded areas. This creates the illusion of a luminous ball inside a pearl. The shine is certainly a fundamental characteristic that must always be associated with a very good layer of pearlescent (nacre).
Both the nacre and the shine are usually very important, in the case of cultured pearls with nucleus.
Shapes, colours, diameters and surface aspects are more linked to individual choices and are fundamental when choosing a pearl.
2. WHAT IS THE DIFFERENCE BETWEEN A NATURAL PEARL AND A CULTURED PEARL?
A natural pearl is formed spontaneously in nature without any human intervention. The process of a natural pearl begins when an irritating body, such as a fragment or a shell scales, takes up lodging in the oyster or mussel. As a defence response, the mollusc will begin to secrete a crystalline substance, called mother-of-pearl or nacre, to coat the foreign object.
This new pearly formation will continue to be coated with nacre and to grow however long it will remain in the mollusc. A cultured pearl is formed almost exactly in the same way but in this case, it is the man who stimulates the process by inserting the foreign object into the mollusc. This process is called nucleation and involves inserting a mother-of-pearl core as an irritant. Both natural and cultured pearls are recognized as precious stones.
3. HOW CAN I TELL IF THE PEARLS ARE TRUE OR FALSE?
Imitation pearls are often referred as fake pearls, counterfeit pearls or semi-cultivated pearls. Those completely artificial are made of glass, plastic or shell balls immersed in powdered fish flakes and then dipped in a varnish. They are not grown in oysters or molluscs and are not considered precious stones.
You can see the difference between a real pearl and a false one only by putting them side by side. the fake will show a shiny surface without any thickness of its lustre. Another simple way to identify a false pearl is to use the so-called "teeth" test. When you pass the pearl along the surface of the teeth, if is a cultivated or natural pearl you will feel a grainy effect (sandstone) if on the contrary the sensation will be smooth and slippery, almost for certain you have an imitation pearl in your hands.
4. WHICH ARE THE DIFFERENT TYPES OF PEARLS?
There are four types of pearls currently available on the market. The common names with which they are identified are: Akoya pearls, fresh water pearls or Fresh Water, Tahitian pearls and pearls from the South Pacific or South Sea seas. The classic Akoya pearls are the commonly known pearls and the sizes vary between the 2 and the 11 mm with an average size between 6 and 7mm. Akoya pearls are very white or beige (cream colour) but they are also available in yellow pink and blue silver. Freshwater pearls are best known for the multitude of shapes and colours. Their range of colours includes white, cream, peach, pink, purple, and metallic shades of peach-purple just to name a few. About Tahitian pearls, it is important to note that they are the only naturally dark coloured pearls. Its average size ranges from 8-9 mm up to 13-14 mm, and with rare exceptions, up to 16-17 mm and above.
South Pacific is commonly known as "the pearls of queens, the queen the of pearls". The main colours among South pacific are white, cream, gold and silver with an average size that goes from 9-10 mm up to 14-15 mm with exceptions up to 18-19 mm.
5. IS THERE A PEARL QUALITY CLASSIFICATION SYSTEM?
Unlike other precious stones, there is no unified classification system shared by all pearl producers. However, when indicating quality, most pearl merchants use the same alphabetic classification system, being AAA for their highest quality pearls and a single A for the lowest.
This system, although subjected to small variations, is very useful for those who wish to classify a pearl or a jewel with pearls.
6. WHY ARE FRESHWATER PEARLS CHEAPER THAN THE SALTWATER ONES?
The difference in cost between fresh and salt water pearls is guided by the simple and universal rules of the economy of supply and demand. A single freshwater oyster can grow up to 40 pearls at a time, while their saltwater cousins ​​are limited to only 2 or, at best, maximum 3 pearls. The production cost factor is not to be underestimated as it is considerably lower for freshwater pearls. Unlike other molluscs, freshwater molluscs do not need to be re-nucleated to produce a second harvest of pearls, considering that the pearly sack, from which the first cultivated pearls were delicately extracted, will spontaneously form the same number of pearls again, when put back into water.
7. WHICH PEARL COLOUR SUITS ME THE BEST?
While the colour of the pearl is clearly a personal choice, there are some guidelines in choosing a colour that is more complementary to a specific skin tone. Women with fair skin colour generally prefer white pearls with shades of pink, while cream and warm colours such as Golden tones are mostly preferred by women with darker skin complexions. Colours such as dark grey, black and silver usually enhance and bring out all skin tones.
8. WHAT IS THE CHROMATIC NUANCE OF A PEARL?
The colour of a pearl is assessed by the combination of body colour and hypertone. Body colour refers to the base colour, while hypertone refers to the presence of a secondary colour, also known as "tint". A white-pinkish colour refers to being white the colour of the body of the pearl with a pink coloured "tint" as a nuance. A white pearl with pinkish hypertone would be considered rarer and more precious while the white ones with green hypertone are usually less required.
9. WHICH IS THE APPROPRIATE LENGTH FOR A NECKLACE?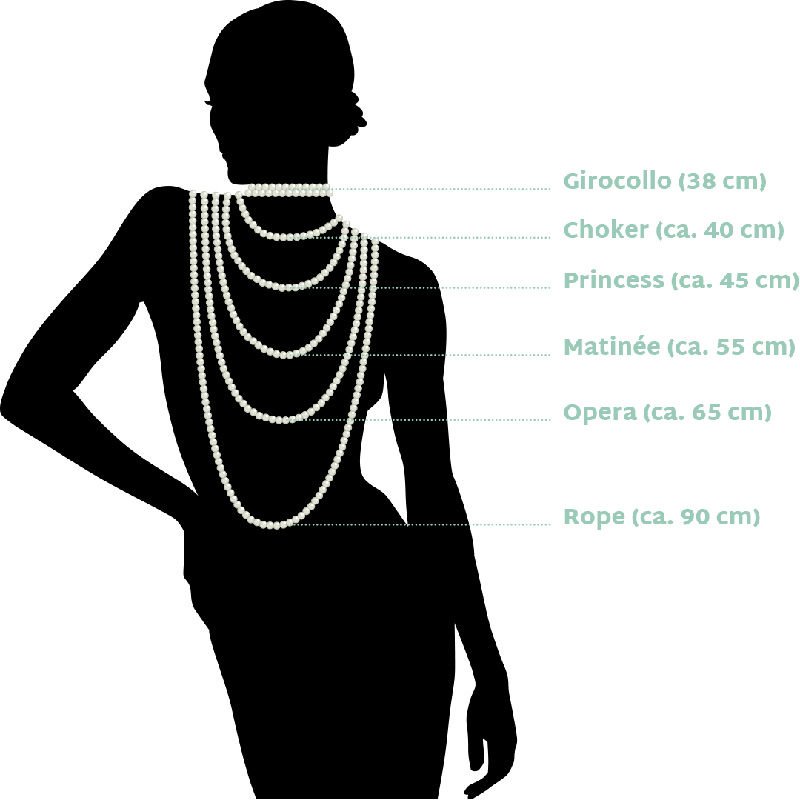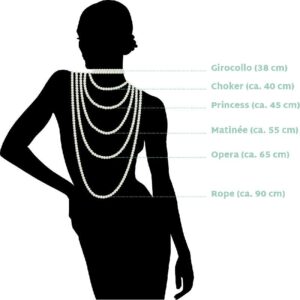 It's widely known that a pearl necklace, commonly called "string of pearls", is an item that cannot be missing among the jewels of a woman.
It's a classic that fits all situations, looks and occasions, from the sporty one, worn casually with jeans and a t-shirt, to the more elegant and refined one on a basic black or an elegant ceremonial dress.
A pearl necklace adds style to whatever you wear, but its length must be chosen carefully, to make the most of your look.
The Collar, a Victorian look, very refined, has a length of 38 cm and enhances a V-neckline or an elegant dress.
The Choker, of around 40 cm, fits all necklines. It looks like a choker, but it is softer because it is not stretched. It can be worn with an evening dress but also in the everyday life.
A great classic is the Princess, of about 45 cm, it goes with any type of clothing, like a pullover or a décolleté, from the informal dress to the elegant and refined one.
Great elegance for the Matinee length, which has about 55 cm and looks perfect with a long dress or a turtleneck sweater. Perfect for formal occasions.
The seductive Opera, of about 65 cm, consists of a single very long thread. Gorgeous with an evening dress but easy to wear even with casual clothes.
Never out of date, of about 90 cm, we still have the Rope, famous because it is used by Coco Chanel, in all occasions. It is certainly a sexy length and it can also be worn with double or knotted thread. Always use it! Nevertheless, let's not forget the man who wants to wear a pearl necklace. For him, the recommended length is 43/45 cm, especially if worn on a V-neck shirt.
10. HOW MUCH SHOULD I SPEND ON PEARLS?
Nowadays, due to the large availability of cultivated pearls at reasonable prices on the market, there is no need to spend a fortune to buy quality pearls. Our advice is to focus on selecting the best quality pearl we can get with the budget at our disposal. This will ensure that your beautiful pearls will not only retain their value over time, but it will also be possible to pass it on so that it can be enjoyed from generation to generation.
11. HOW CAN I TAKE CARE OF MY PEARLS?
After wearing your pearls, we recommend simply cleaning them gently with a slightly damp soft cloth. Avoid putting them in contact with creams and other cosmetics, let alone spraying lacquers or perfumes on their surface. These products contain alkaline substances and they can seriously damage the surface of a pearl. Our advice: wear your pearls only after applying cosmetics, hair sprays and perfumes.
Depending on the frequency of use, we recommend washing them with a mild neutral soap (do not use detergent). On pearl necklaces, use a soft cloth or, even better, a brush with delicate bristles around each bead, eliminating the possible impurities deposited on the surface and near the knots. In addition to that, take care that the thread that supports the necklace has dried well before wearing them again. It is important to keep your pearls in the package you have received from Genisi, far from the contact with other jewels since the hardness of their metals could scratch the surface of the pearl. If you decide to keep the pearls in a jewellery box other than the one we sent you, make sure there are separate compartments for each piece of jewellery. Your pearls should be stored in a well-ventilated place and away from excessive heat and/or direct sunlight. Always take care of your precious pearls, follow our advice and you will certainly enjoy your jewel for a long time.
12. HOW OFTEN SHOULD I STRING MY PEARL NECKLACE?
The amount of times advised to restring your necklaces will depend on how often you wear them. For instance, if you wear a pearl necklace almost every day, we advise you to have it re-threaded once or twice a year; always on silk threads.
Nylon is not advised. If the beads of the necklace become loose or if you notice any visible spacing between the nodes it is time to insert them again. Don't neglect this aspect of maintenance because in the long run, if left for too long hanging on a loose string, the beads risk losing their drilling axis.