Among the multiple types of natural pearls that can be found, there is one in particular, very appreciated for its characteristic color and the extreme rarity: the Abalone pearls.

This type of pearl comes to life from the gastropod mussel Haliotis, particularly diffused in Australia and New Zealand thanks to the incisive marketing done by the Eyris Blue Pearl Company, which promoted these magnificent pearls.
The beauty of these extraordinary pearls is determined by the combination of different shades that the mother-of-pearl assumes during the creation: blue, lavender, orange, green, pink and silver, which can create wonderful reflexes and perlescences of rare beauty.
The cultivation of this pearl is really difficult because of the very delicate nature of the mussel that produces it. Despite that, one type of cultivation had success: the Mabe pearls of Abalone grow on the inside surface of the shell and they don't harm the delicate constitution of the mussel.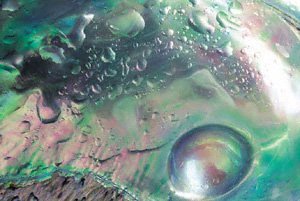 So, the normal conformation of these pearls are once again left to the will of nature, raising their rarity even more; their spread, for now, is well based only in Australia and New Zealand, but the European success is expected and eagerly assured by the extraordinary beauty of these natural treasures.
Condividi su: