The pearl market is constantly changing, with new varieties, new manufacturers and higher and higher product quality, but we often forget of the main pearls which legitimated these natural gems centuries ago, in other words natural pearls.
Retired in New Zealand, Lou Hill practices snorkeling more like an amateur than a true professionist, and his first findings happened right when he was merely searching for Abalone mussels to put on his BBQ for supper.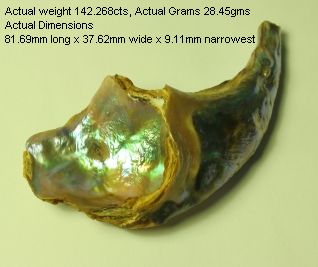 Equipped with mask and snorkel, Lou used to go out for these little hunts and, if the weather was clear, he could even find some tasty specimen: from some of these exquisited mussel that he actually made his first extraordinary discoveries in the pearl field, undestanding that beside tasty food these seashells could also provide a huge treasure under the form of a natural pearl.
And the first four pearls of his carrer were found in the Chatman Islands during a simple recreative immersion 30 years a go now.
"The first Abalone pearls that I discovered was also the most thrilling one to find", said Lou about his first finding; after 30 years of experience and several specimen brought to light, the comparison between the first findings and the latest seems legit. Given the remote and almost intact area the first discovered ones were surely larger and more developed than the more recent one, found on the beaches.
The biggest one among the first four pearls was 28,45gr in weight (142,268 carats) and 81,69mm long, a really uncommon and rare specimen because of its thick nacre which unique green, blue, violet, orange and yellow iridescences that make this pearl even more beautiful and valuable.
Even if Lou Hill really appreciates its beauty and uniqueness designed by nature itself, he would like these pearls to be used for some educational purpose, for example to be part of a collection so it could be shown to a wider public or to be used to make some fine jewellery pieces in order to enlighten its beauty.