The greatest discoveries, as everyone knows, may happen in a casual and random way, and this founding, happenend in New Zealand, is no exception: Portia Himsel, a 6-years-old girl, was playing at the Banks Peninsual beach near the Birdings Flat when a big grey seashell captured her attention.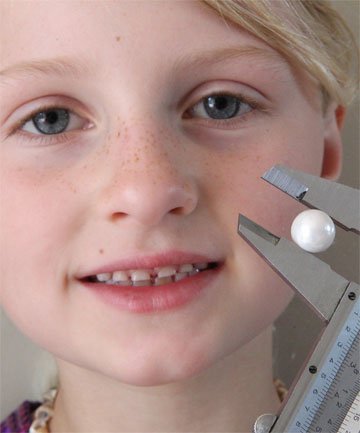 The girl, totally unconcious of the great discovery she was going to make, threw a small stone against the shell to see if it was going to move and, since it remained totally static, Portia opened it founding what for her was a mere marble to play with: the small object wasn't a simple marble, it was infact one of the most precious pearl ever found in the New Zealand.
After this small – but great – discovery, the girl went straight to her parents, which couldn't believe the object was really what it seemed, in other words a big natural pearl, almost perfectly round coming from a seashell; since Portia brought the pearl home to her parents and big sister a few years older, the pearl has been preserved and kept at its best to save all its natural beauty.
Considered that nobody of this family knew someone who had ever found a pearl, the parents consulted an expert in this field: Roger Beattie, of the Eyris Blue Pearls in Christchurch, has affirmed that "this might be the finding of the year" given the high quality of the pearl itself, never seen in any other specimen of New Zealand.
Even if the Himsel family hasn't decided what to do with this treasure yet, the expert has supposed it might come from a New Zealand oyster, a good quality pearl classifiable as a AA (if we just think that the highest grade is AAA, its quality is truly remarkable).