Big, round shaped, white with a particular opalescence. South Sea pearls, or "australian" ones, are the rarest and biggest in circulation, produced by the biggest pearl oysters in the world, the Pinctada Maxima.
During the 19th century, thanks to the discovery of a very prolific mussels' bed, these "queens of pearls" became really popular in Europe, making the Victorian Era the most luxurious time for these natural pearls.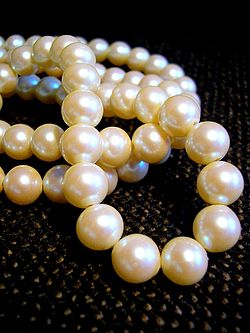 At the beginning of the Fifties the colture of this pearl begins, otherwise too rare to be found in nature, in far areas unpolluted by the man's hand in order to diminish its high death percentage, which in some cases is up to 80% of the mussels.
Pinctada Maxima are incredibly big mussels, which can reach 30 cm in diameter and 5.5 kg, being able to produce superior pearls then the other cultivated types, which can go from 8 mm to 30 mm in diameter for spherical specimens.
Through the yeas these coltures have spread in all the south east Asia, from Birmania, to Malaysia, Indonesia arriving to the north west coasts of Australia, Philippines and Polinesia, where the world's finest and famous black pearls of Tahiti thanks to a particular type of plancton eaten by these oysters.