Natural pearls are in and of itself great treasures to find in nature, but sometimes nature exceeds itself gifting us with even more valuable treasures like the Abernathy pearl, the most perfect freshwater pearl ever found on the coasts of Scotland.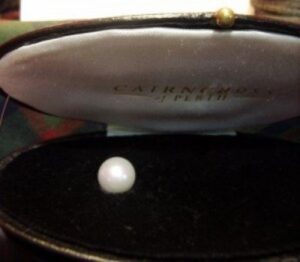 With its extraordinary weight of 44 grains this pearl is certainly not the most simple one to find in "wild nature", with such unique characteristics and innefable quality: found on the banks of the river Tay in 1967 by a professional pearl, diver named Bill Abernathy, this pearl took its name right from its discovered, earning at the same time the nickname of "Little Willie Pearl".
The mussel which created this beautiful pearl if the Margaritifera margaritifera of the Unionoidae family, once very common in the Scottish rivers with a great fame of being pearl producers which caused in ancient times a real hunting of fine pearls and even pushed Julius Caesar to invade Britain.
This abundance of mussels and pearls was wrecked by the Industrial Revolution because of the massive amount of dirt that was thrown in the rivers making them polluted and causing a massive death of these precious living beings.
After its lucky discovery, the pearl has been exposed for nearly 30 years in jewellery of Cairncross till 1992 when it has been sold of un unknown – and most probably very high – price.
Condividi su: