Nature is capable of donating magnificent creations to human beings, natural masterpieces like pearls born from a simple mussel: the Gogibus pearl is one of this extraordinary specimen.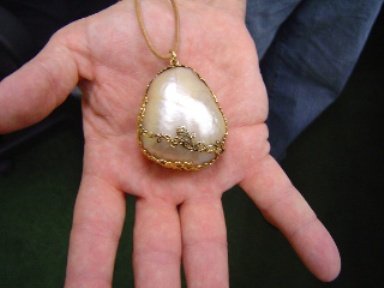 Weighting 126 carats, this pear-shaped pearl belonged to a merchant, Francois Gogibus native of Calais, which brought the from India to Europe in 1620; this merchant sold the pearl to Philip IV of Spain, that made it set as a button for the royal cape.
This pearl had been a big gamble for Gogibus, who bet everything he had on this magnificent and natural beauty: many merchants preferred to invest in dribs and drabs in this field, because the profit wasn't always certain.
But Gogibus was able to sell his product very well, answering really wisely to Philip's question about why he invested so much on a sigle pearl, saying that "he knew there was a king of Spain willing to by it from me", seeing his faith rewarded by the king with the purchase of the pearl, which took his name.