A question that I often get is this: 'What is the best quality of pearls to buy?'
The answer is not at all simple, but I will try to make it easier and possible for you…
In a not too distant past jewellers would have recommended Akoya or South Sea pearls if the request was for classic white pearls, or Tahiti pearls in the case of dark gems.
Today however the choice is much broader.
When my clients ask me for information on the best pearls on the market, I encourage them to explore the unique characteristics of all kinds of pearl and to choose the type that respects their style but also their budget.
From the astounding black pearls of Tahiti to the classic pastel color of fresh water pearls, today's pearl market has more options than ever before to bring to any end user.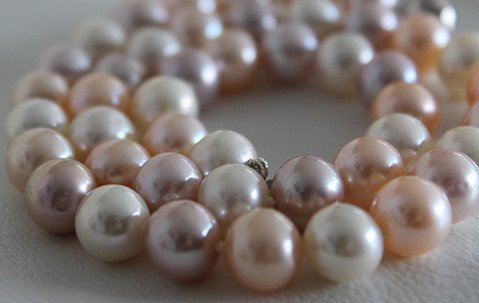 There are four main types of cultivated pearls to consider and each has its own characteristics and its own particular singularities
After having familiarized yourselves with each type of pearl, you will be able to make the choice that most suits you.
these represent some of the best cultivated pearls available on the market. Noted for their beautiful shine and generally round form, they are famous for their elegant, traditional and classic appearance.
The greater part of the Akoya pearls are cultivated in Japan, China, and Vietnam.
their diameter varies from 2 mm to 9 mm.
The price of a necklace of Akoya pearls begins at € 500.
Akoya Pearls
Fresh water pearls:
freshwater cultured pearls principally come from China and are usually without a nucleus which makes them very durable and because of this they are less delicate than other pearls.
Freshwater pearls for some years have been characterized by irregular forms and small to medium dimensions. Today the range is extremely diverse with larger sizes that can reach 13-14mm in exceptionally spherical forms.
The pastel colouration and reasonable shine are their major characteristics as well as a fairly competitive price in respect to other types of pearls present on the market.
This is because China, leader in the cultivation of freshwater pearls, produces a surplus to demand, above all thanks to more competitive manufacturing costs and the resilience of the oyster's productivity.
Their diameter varies from 2 mm to 11 mm.
the price of a freshwater pearl necklace is starts at 100 euros
When we talk about black pearls we refer most times to the precious Tahitian pearls, a product of the Pinctada Margaritifera oyster, an especially delicate oyster and therefore rather difficult to cultivate. Because of this the cost of these pearls is on average higher than other varieties. They are cultivated in the isolated archipelago of French Polynesia, particularly in the Gambier and Tuamotu archipelagos and are the only natural black pearls. They have various tints: pitch black, grey, peacock green, green, violet, blue and red.
their diameter varies from 8mm to 14mm
The price of a Tahitian pearl necklace starts at € 800.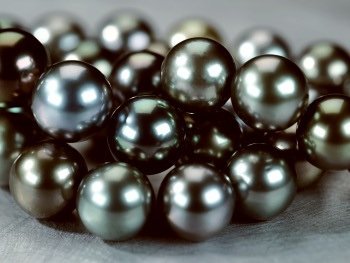 South Pacific Pearls:
large, elegant and with a silky shine, the pearls of the southern ocean are often known as the "queen of jewels and jewels of the king."
Cultivated in the whole of the Indian and Pacific oceans, principally in Australia, but also in the Philippines, Indonesia and Myanmar.
It has an assortment of various colours from black, to silver, to the rare and precious gold.
The most precious are gilded pearls, commercially defined as Gold pearls.
Southern ocean pearls are known and sought after particularly for their generous dimensions and refined colours.
Their average diameter is around 13mm but some specimens grow beyond 20mm.
The price of a necklace of Southern Ocean pearls starts at € 2000.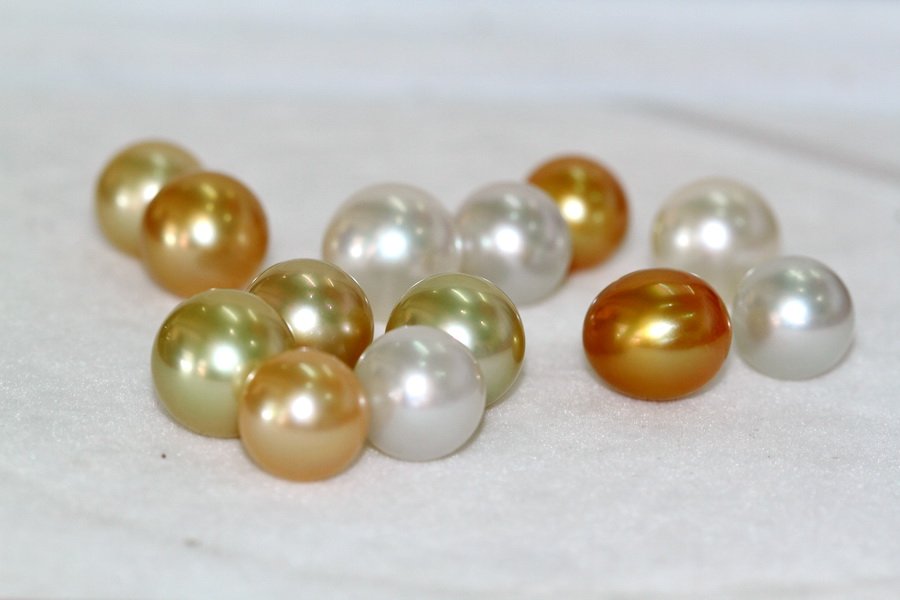 Quality is an essential factor when buying a pearl.
Keep in mind that there are two aspects to consider: the quality of the pearl, linked to the depth of the nacre and to the luminosity, and the rarity; linked instead to the size, characteristics and colour.
Buying from a trusted jeweller is very important, and just as important if you've chosen to turn to an online store. If you've found an offer that seems too good to be true, it probably is.
Genisi Pearls offer their clients a professional advice and a highly competitive product, at an unbeatable quality-price-availability comparison.
Genisi Pearls uses only trusted suppliers, able to offer a product of high quality, with a competitive price and available in an acceptable timeframe.
every pearl offered by Genisi pearls are certified by adriano genisi (g.i.a. – pearls graduate and diamond grading)
The quality guarantee of cultivated pearls comes from the deep knowledge of the market, with over 20 years experience in the sector.
L.R.